// BLOG
November 4, 2015
Gelish Fall Collection is out!  Urban Cowgirl:
Gelish Holiday Collection is now here – The Reds!
May 23, 2014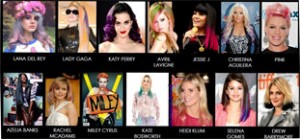 One of the hottest hair trends of the year & showing no signs of slowing down, we love the craze for bold and brightly colored hair. So we are particularly excited to unveil our NEW temporary hair color: L'Oréal Professionnel Hairchalk.
Hairchalk lasts about 7 washes, so there is no long term commitment to your color!  Get as crazy or funky as you want.  L'Oréal Professionnel Hairchalk comes in five bold, show-stopping shades and three more subtle, sophisticated tones. The hair chalk range is inspired by the way we accessorize with make-up and nails, allowing us to change hair shades as often as we do our shoes!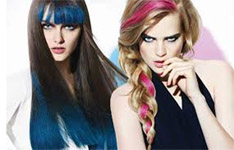 Bold on both blondes and brunettes, the eight shades consist of Sweet Sixteen pink, First Date Violet, Blue Ocean Cruise, Garden Party, Coral Sunset, Bronze Beach, Coffee Break & Black Tie. So get ready to brighten up the boardroom, wow on a night out or accessorize a pretty braid on a Sunday afternoon.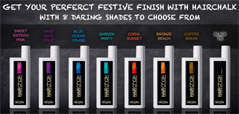 December 13, 2013
It can't get more glittery and glamorous then with the 16 NEW colors of the Gelish Trends collection.  Just in time for the year end holiday parties and festivities – with Christmas and New Years Eve coming up, the best accessory is your nails!  Gelish has released 16 – that's right sixteen NEW blingy, shimmering colors – there is sure to be a match for each occassion.  From sparkly reds and greens for the festive season to silvery and gold glitter for the big party on the 31st, you're sure to find the right sparkle among the new trends.
November 12, 2013
From the bottom of our hearts, we would like to thank all of our clients for 8 wonderful years in business!  We are filled with gratitude that everyday we are able to come to our salon and give our talent over to the natural beauty of all of you!  In celebration of you, MFS is offering Complimentary Deep Conditioning Treatments (Powerdoses) to all of our clients booked on November 22nd.  We will also be offering fun discounts on our retail lines (tools excluded) and yummy goodies.  We are so excited to celebrate with you!
October 11, 2013
October is breast cancer awareness month and that means that you need to sport your pink hair!  For a $10 donation we will apply one pink hair extension and also remove it later.  Get as many as you would like and spread the word!!  All proceeds go to support the American Cancer Society.